5.14.2010
In Paris at last.....

We landed at Orly in Paris and were immediately hustled by a driver to take us into town. We opted to take a regular taxi and 20 minutes later we arrived at our apartment on rue Sevigne in the 3rd district of Paris. I was off on my timing so we had to wait an hour for the agent to arrive and give us the keys to the place.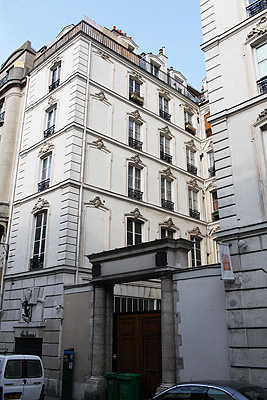 The apartment is on the 4th floor, 5th by American standards and there is no elevator. Infact the building is older than the United States being built around 1720 and you can tell. The stairs are almost vertical and it is a chore to get the luggage to the top. The only good part of being on the high floor is that we are away from the street noise and there is no one above us to listen to.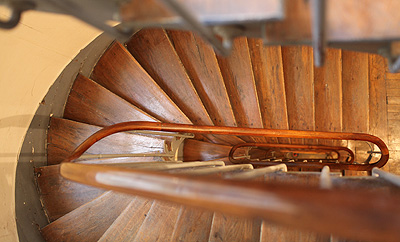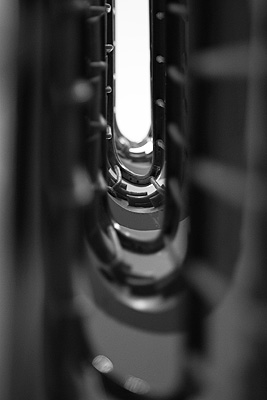 We were shocked to find that the previous tenant had left and no one had cleaned up the place. The agent gave us a free night to make up for it and Lisa cleaned up while I ran down the street to the laundry and washed the sheets and towels.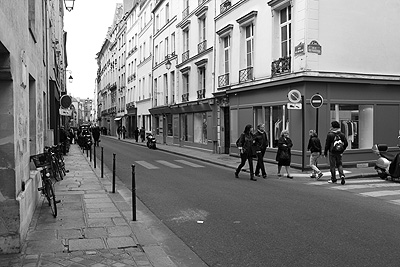 After getting situated we ran down the street to the local market and picked up some basic necessities. On the way we decided to stop by the local creperie and try some crepes which were very delicious. Our street is loaded with shops and was very crowded with people just hanging out.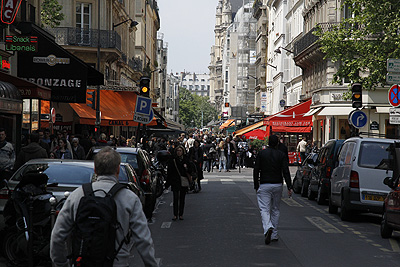 Posted by Scott

5.15.2010
Getting situauted.....

Walked down Rivoli Boulevard to the Forum Les Halles complex and stopped in for sushi on the way. The sushi was cheaper here than at home but it also is very simple and not as tasty. At the Forum we found a public swimming pool that we decided we would try but we need Paris appropriate swim suits in order to go in.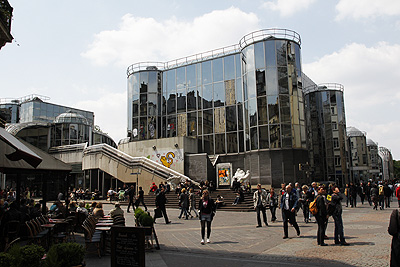 We stopped in Darty which is a Best Buy equivalent and bought a speaker for the iPod and a clock. It seems every large store you go in has small little LCD displays for the price of the item instead of a tag. They also have the sales tax built into the price so that is nice as the pirce you see is what you pay.
On the walk back we stopped in a Chinese takeout and picked up some dinner to take to the apartment. They are all over the city and sort of like a Panda Express where all the food is deli style and ready to go. After dinner maddie opened a cabinet that was hidden and found the washing machine we did not know we had.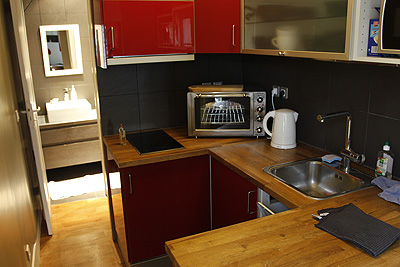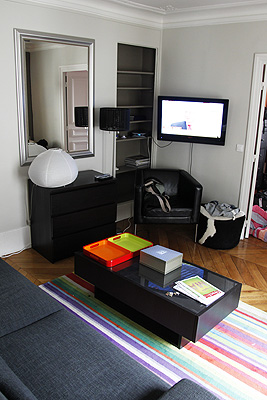 Posted by Scott

5.16.2010
Street markets.....

We started the day by going to the famous Mouffetard street market to see what is was about. We ended up buying a loaf of bread, a rotisserie chicken, avocados, cheese, tomatoes and some rocket. Once back we made fresh sandwiches that were incredible. After that we worked for a while on getting the phone to work and finally made some calls.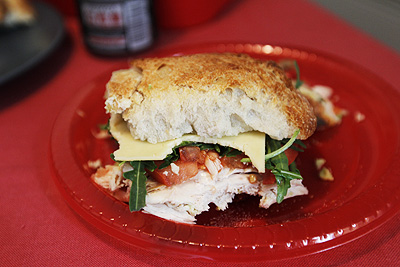 Maddie and Lisa did some school work and I walked around the block and took some photos. The local park seemed to be the place to hang out on a Sunday afternoon with a clear sunny sky. I also made friends with some locals (ha ha see picture).
Later on we ventured around the neighborhood and maddie bought an outfit at a local designer shop. After wards we stopped at a café and had an apple toffee crepe with ice cream then walked over to a finger puppet shop, not too exciting.
When we got back to the apartment I ended up talking with the owner on the phone and she was able to help us with some unanswered questions about the place.

Posted by Scott

5.17.2010
To the grocery store....

We left the apartment and decided we were going to Carrefour which is the European equivalent to a Walmart or Target to get some items for the place. We had to take two different subways to get there and had a hard time finding the entrance since the store was built under a park. The grocery part of the store had a huge selection of foods, probably even more than we have in the U.S. We also bought a roller hand cart to carry the stuff back in, seems to be the standard over here.

On the way back we stopped and got a pizza down the street and then back to the apartment. After a few hours of rest we decided to go to the movies and catch the new Robin Hood for the $3.50 show. We also stopped by and bought maddie a scooter and we all got swim suits so we can use the public pool. They do not allow shorts or bikinis so we needed appropriate suits and caps.
After the show we headed home and made tacos for dinner but the shells we premade and very stale.
This was an entire day without the camera. Note no photos......

Posted by Scott

5.18.2010
Of to Eiffel...

Ran down to the local Patisserie and picked up an éclair and a napoleon for breakfast, actually that would be a power breakfast. On the way I tried to use the Velib bicycle system but failed miserably as they will only work with European ATM card. The cards over here have a security chip with contacts built into the card. The Velib system is 1,500 stations with 20,000 bicycles across Paris that you can rent for free as long as you make it to another station within 30 minutes.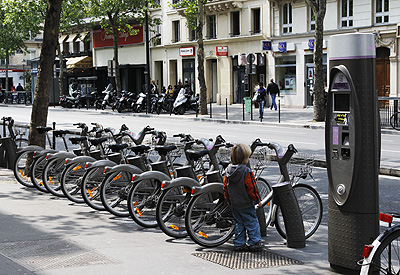 We decided we would go see the Eiffel Tower today so we started off by going to go sport to buy a scooter for Lisa. On the way out the door I stepped on a security tag at the register and the nail shaped piece went through toe. Luckily it came right out or I would not be able to leave the store without the alarm going off.

On the way to the Eiffel we grabbed a cheap lunch at a Middle Eastern diner and then picked up some pastries next door which we enjoyed on the bank of the Seine River. The boats and barges were busy hauling their cargo up and down the river as we sat there stuffing our faces with baked bliss.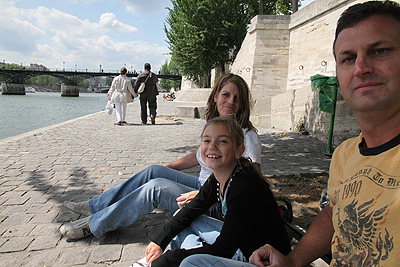 Now that half the day was done we were off to the Eiffel, finally. So we decided we would shortcut through the Louvre Park and then cut down the Champ Elysees past the royal palace. Well 4 hours later we were only half way there and figured by that time we would not be making the Eiffel today so we grabbed some dinner at a local French bistro. Lisa finally got to have her French onion soup in France so it worked out good.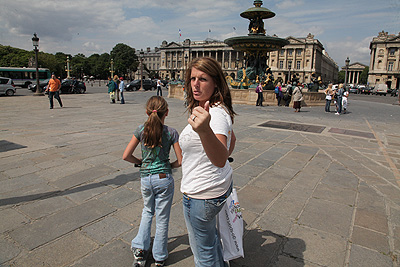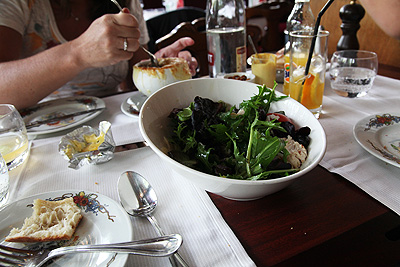 On the way back we stopped in a perfume store the size of a Walmart and by the time we left I think my nose was permanently damaged. I have never seen or smelt so many fragrances, good and bad. Once back we setup a $25 DVD player we had bought and Maddie watched a Harry Potter movie. The TV in the aprtment has only 2 stations in english and they are both news.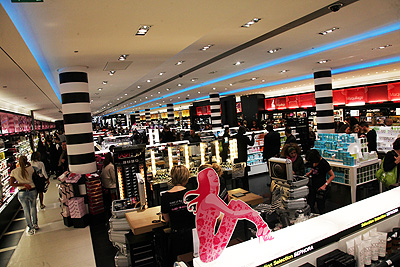 Posted by Scott

5.19.2010
Science Center......

Decided that today would be an educational day so we took the metro to the Paris Science Center at Park La Villette. The first thing we see at the park is a giant play area with windmills, zip lines and big bouncy pads all over. After burning 2000 calories Maddie was tired and we were off to the center.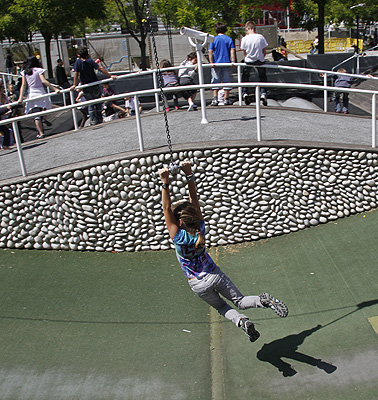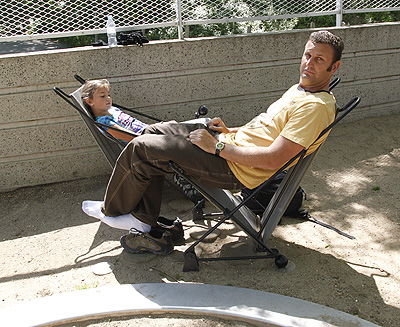 On the walk over there we came across a submarine just sitting in the air. The thing must weight five million pounds so I do not know for sure how it got there in the middle of a park. There was a canal close by so maybe they floated it in.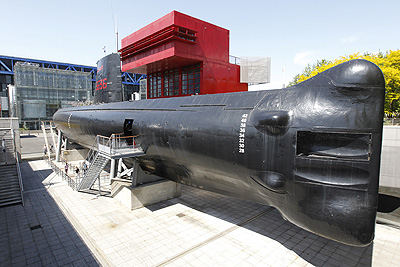 By the time we finally go to the science center it was late so we only went into a special show called Bon Appetite which was an interactive display about eating healthy. There were a lot of fun activities and quiz's that entertained all three of us. Here is a fun test if you click here.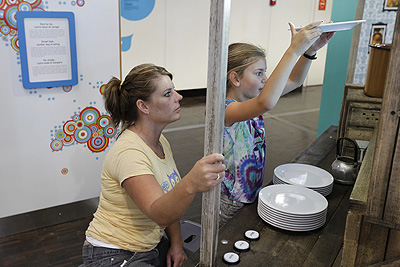 On the way out we saw a 3D IMAX that was awful because the 3D glasses were so dark you could hardly see the movie. But the show was in this giant geodesic dome that was covered with mirrors on the outside of it; very cool looking at it from the outside.
Grabbed some low grade Chinese food on the way back to the apartment and then called it a night. Without a TV with 800 stations to watch you would think we have a lot of extra time but we seem to have less.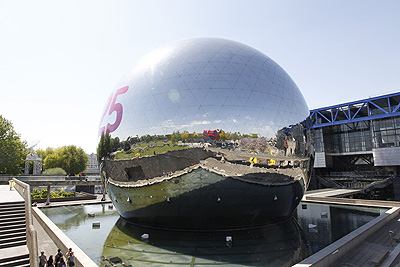 Posted by Scott

5.20.2010
Chicken and Potatoes....

We started the day with lunch at a local place called Paul but the sandwiches were not good as if they had been sitting there a few centuries. Took a walk down to Bastille then the metro to the Movie Theater because Maddie wanted to see Iron Man 2x. Some movies are better left without sequels.

On the way back we stopped by a local shop that makes the best rotisserie chicken and picked up a whole chicken and some potatoes that the slow cook under the rotisserie so the juices drop on them all day. Went next door and grabbed some fresh carrots and next door to that a bottle of Pinot Noir and next to that a fresh baguette and a cake.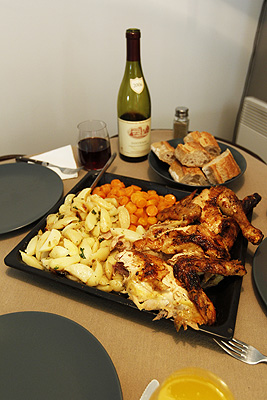 When we got back to the apartment we fired up the carrots and plated the food for what was the best meal we have had since we left home almost a month ago. Sometimes the simple stuff taste the best.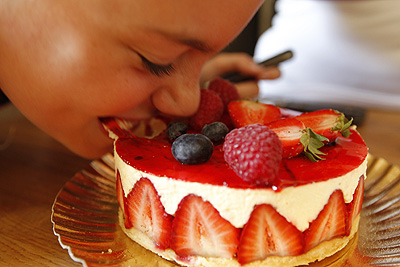 The Black Eyed Peas were playing down the street so after dinner Maddie and I jammed down to the Bercy Complex to see what we could see. I had the big camera so I was able to pass as press so me and Maddie got to the place with all the Media. I told Maddie if we stayed there for 2 hours when the concert was over we would be face to face with Will I Am and Fergie but when your 8 years old 2 hours is too long to wait.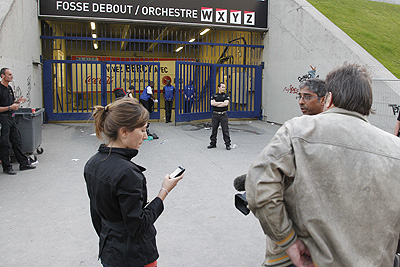 After standing around with the media we caught up with a group of street dancers jammin in front of the complex doing their thing.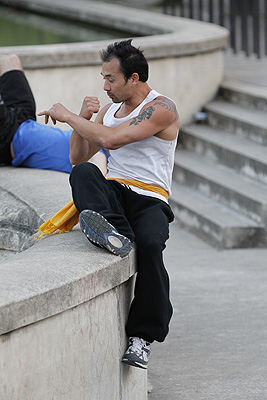 Next to the Bercy is a giant skate park and there was a pro biker doing tricks for a group of photographers so we watched for a while.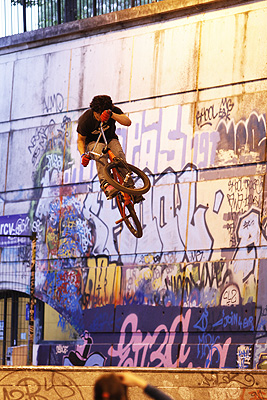 Later on I came across some scalpers closing up for the night so I asked about Lady Gaga tickets as she is playing the next day. One of them had 3 tickets in his car so we made the arrangements and bought the tickets. Maddie was very worried about the deal thinking the tickets might be fake, but I told her you cannot buy them from the store as they sold out a long time ago. So in two days we are going to the Lady Gaga show in Paris. The funny thing is 2 days earlier I had taken photos of what we thought was a Lady Gaga look alike doing a promo in front of the Bastille monument. I took a bunch of photos never thinking that it might of been the real Gaga.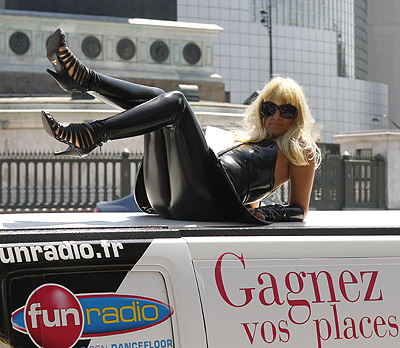 So we called it a night and headed back to the apartment just me and Maddie roaming the streets of Paris at 10:30 in the evening along with the neighborhood kids. One thing I know is that when she gets to be an adult she is going to have a lot of street smarts as she sees and learns a lot about how to handle all the different situations that we encounter every day.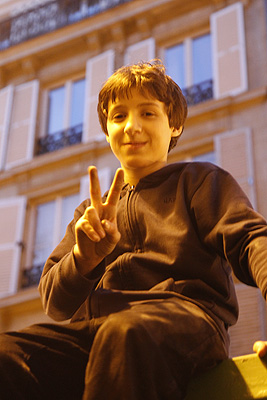 Posted by Scott

5.21.2010
Versailles...

We woke up to a perfect day so we decided we would go out to Versailles, the famous palace built by King Louis the 14th. It is about a 45 minute train ride on the RER which would be like the BART in San Francisco.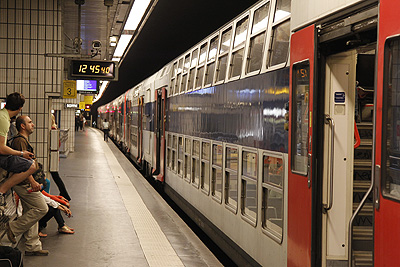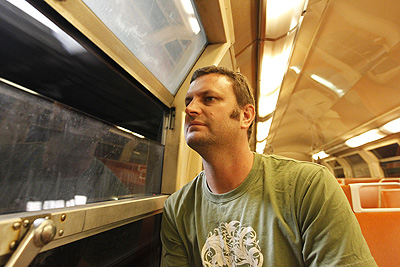 When we arrived we walked by a Mexican restaurant and with any common sense we would have kept walking but nacho cheese were calling our names. Now I have had a lot of different Mexican foods in my life and I would be more than comfortable claiming this as the worst. They served Doritos instead of tortilla chips if that is any kind of clue.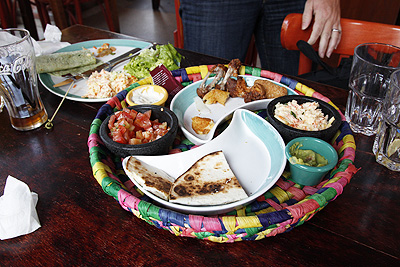 After lunch we walked over to the entrance and before we reached it Maddie eyed the Segway booth in front. They had a special where you could learn to ride the Segway for 5 bucks for 15 minutes so we all rode around the test rack for awhile. I think this was the first time any of us have ever tried one.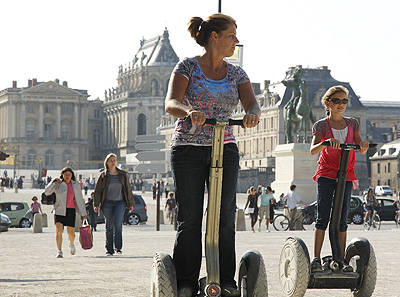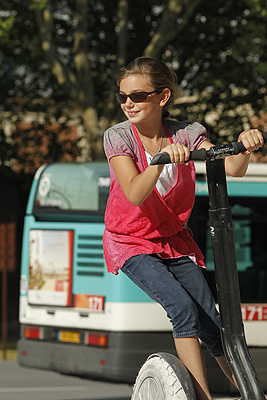 The palace of Versailles is like going to an airport, it is secured with metal detectors and bomb sniffers. There is really nothing I can write down that could explain the extravagance (or bling) that was built into this place so I will just attach some photos below.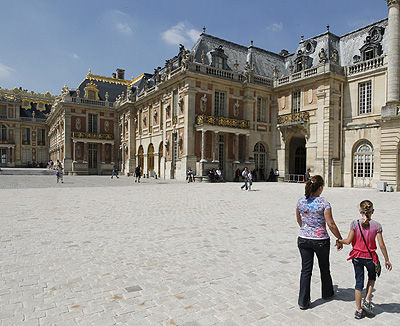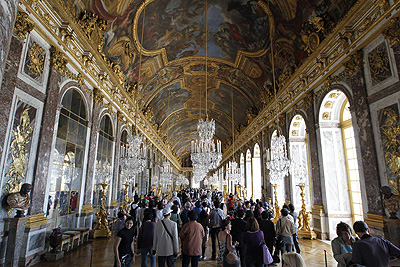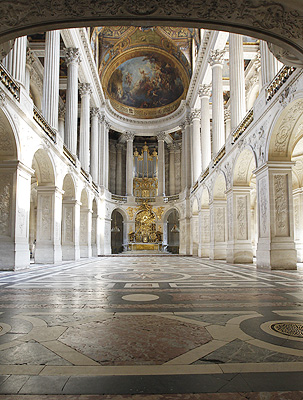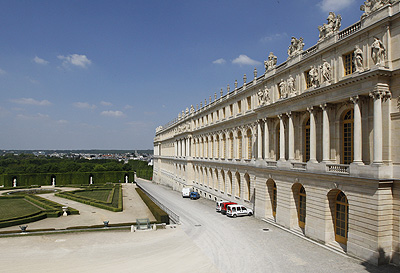 After the palace tour we roamed through the gardens and made our way down hill where we found bicycle rental. We rented 3 bikes and took the tour on wheels riding along the paths through the groves of trees. The gardens are very expansive and really just amazing on such a beautiful day. We stopped somewhere in the grass and just sat for a while enjoying the experience while Maddie was endlessly doing cartwheels.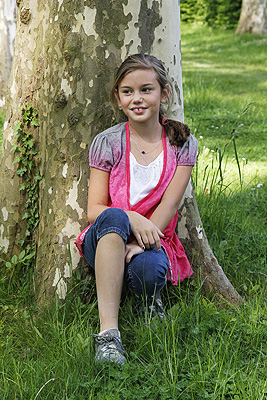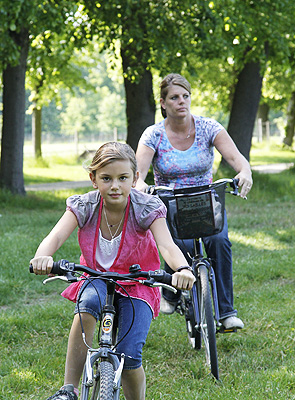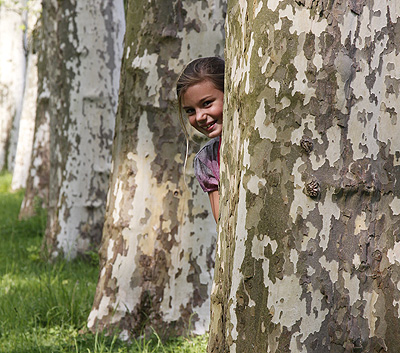 After returning the bikes Lisa caught the bus back while Maddie and I finished the tour on foot. By then we were beat and decided to go catch the train. For some strange reason on the train ride we were passing by the Eiffel tower that we still had not visited - so we decided to stop.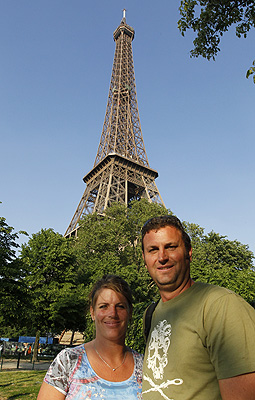 Now I have seen the tower before and even been to the top but when you see it again you still are very impressed by something of its magnitude. The lifts were closing and our only option to go up would be 1700 stairs so we just opted to walk around the base and then we headed over to a local Italian place and grabbed some pasta.

Posted by Scott

5.22.2010
The Hippopotamus.......

We started off by walking a different part of our neighborhood looking for something interesting. Afterwards we stopped in for some lunch at a place called Hippopotamus which is a French equivalent to an Applebee's. Lisa was craving a burger and the menu had 10 different varieties to offer.

Yesterday morning I had bought Lisa a planter for the balcony of the apartment. It is one of those that hang off the edge so she could have small garden. Now when I say small I mean in inches. So on the way back we stopped by the flower shop where I had bought the planter and Lisa picked up some mini rose bushes to plant.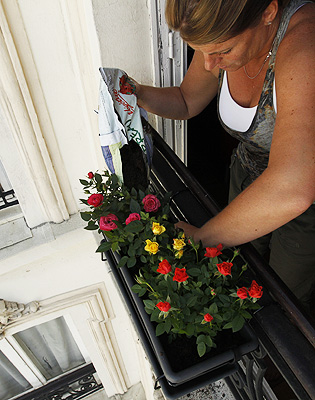 Around 6:30 we left for dinner on the way to the Lady Gaga concert. We picked up some cheap Chinese food which there seems to be an abundance of in our neighborhood. When we got to the arena they were all ready lined up and going in so we joined in and were happy when they scanned our tickets, we still had some doubts to whether or not they were fake.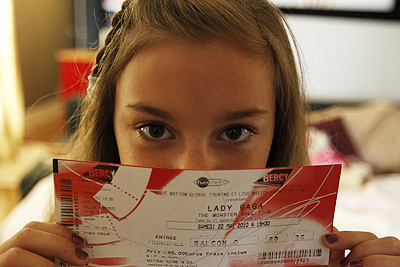 After watching some poor attempt at an opening act and waiting a half hour for them to change over the stage she finally started the show. I will say she is very entertaining and has a lot of devoted fans in Paris. The show was more of a musical then a concert as they changed the entire stage every couple of songs telling a story.

Posted by Scott

5.23.2010
Uno in the Park....

We decided to check out a direction of our neighborhood we have not been in and our main goal was to make it to GoSport.but it being a Sunday they were closed. So we ended up getting some pastries and making the best of it.

We later on went to our local park and sat on a blanket and played a game of Uno. The park was packed and obviously the place to be as the sun was out and there was a nice breeze. We grabbed dinner at our local creperie which seemed to taste better the first time we went.

Posted by Scott

5.24.2010
Go no go.......

We planned on going to the Aquaboulevard water park but when we got there the lines were huge and it turned out to be a school holiday. Instead we stopped by Carrefour and picked up laundry soap and toiletries.

When we got back to the apartment the sunny day had heated the place up. I ran down to Dartys to buy a fan and they were all sold out but 1 model. It seems everyone had the same idea. We got all dressed up and went out to dinner at a local french brasserie.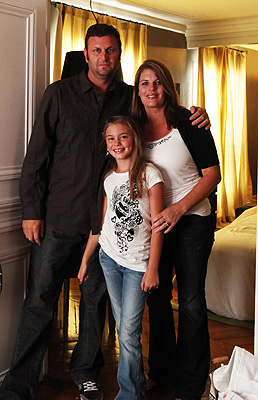 Posted by Scott

5.25.2010
Nothing at all....

We really did nothing today, just rested. Found a good Italian place for lunch and we got the chicken and pototaoes for dinner again.
The flowers are doing well and are in full bloom in our small planter.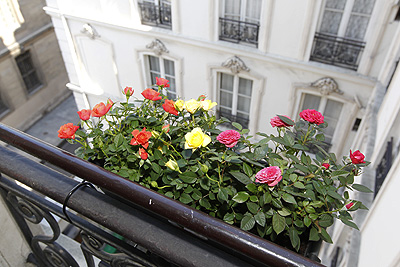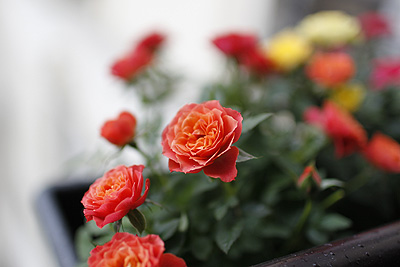 Posted by Scott

5.26.2010
Aquaboulevard.....

We went back to Aquaboulevard Water Park today and since school was in there was not even a line, in fact the place was empty. When you walk into the locker room you have to first go into a dressing room with a door on each side. When you come out of the other side you cannot have any shoes. You also have to go through a automatic shower to clean off before going into the park. It was a happy version of shindler's list. Maddie and I ran from slide to slide with no one to slow us down.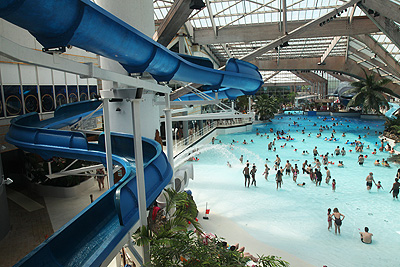 The only thing that is different is they do not have lifeguards at the top of the slides; instead they just have a red and green light. The entire park is enclosed and good thing since it was cool and raining. So after a good 3 hour dose of extra chlorinated water we were done and headed back to the apartment.
After getting back Maddie and I played some Bad mitten in the courtyard with a cheap set we had bought at the sporting goods store.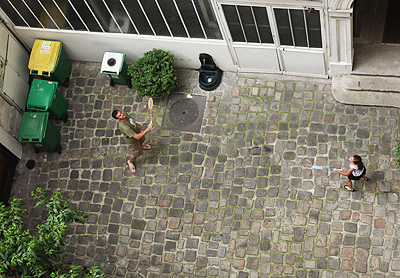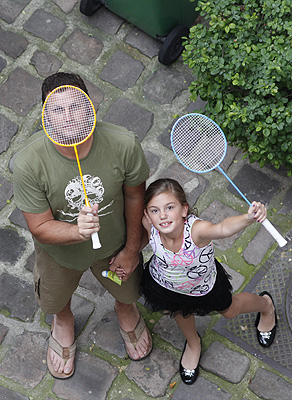 Posted by Scott

5.27.2010
Belgium Bound....

We headed to the train station with the intention of validating our rail pass and then catching a high speed train for the one and a half hour trip to Brussels, Belgium. The first surprise was a 45 minute line at the ticket counter and our train left in 25 minutes. So after our pass was stamped and validated we got a bite to eat at the station.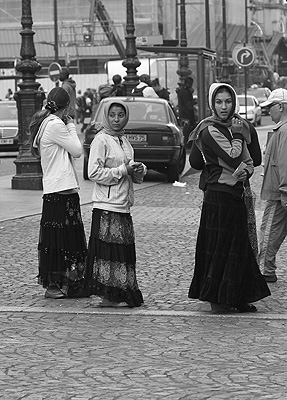 Now inside and outside of the Gare du Nord rail station there are a bunch of Serbian women dressed up like peasants begging for money. And when the first one comes up you feel a little compassionate and think about looking for spare change. But then they keep coming and even if you give them change they insist on more. Well as I was standing out front taking a photo of the station I happened to catch all the women dividing up wads of cash. Now the boss of them did not like being caught and ran over to me through the traffic and was going for the camera. I could do nothing but laugh at her and then she mumbled some words of wisdom and ran off.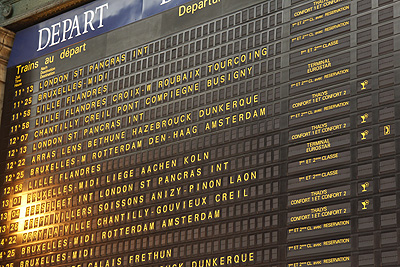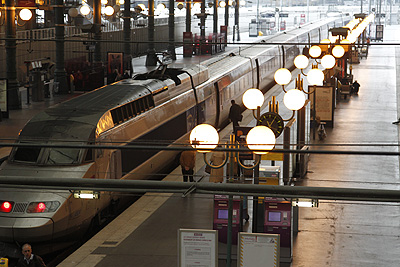 So now we needed to board the train and to find out we needed a reservation for this train. We ended up buying one on the train for a marked up price. The French man in front of us did not like this and took our side and started yelling at the conductor. They were going back and forth and at the same time some Belgium undercover police looking for drugs started searching the man across from us. I would have taking of photo of the whole thing but I would of ended up getting thrown off the train.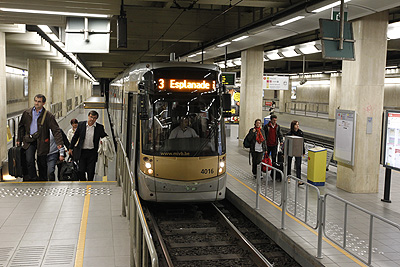 Once in Belgium we jumped onto their metro and took it to the central part of town. With only a half a day we were 100% going to be tourist and drink beer while eating chocolates. It turns out Maddie does not like beer with here chocolates (that was a joke) So our first stop was a belgium restaraunt where we enjoy a bowl of Waterzoi sort of a flemmish version of vegetable stew with heavy cream.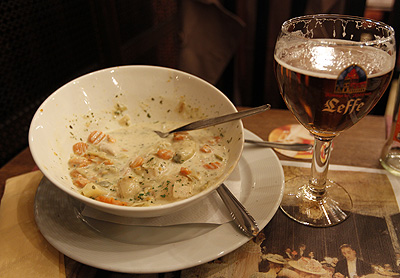 After lunch we strolled around the central plaza and Lisa piliged for her usual souvenirs.Jumped in and out of about a hundred chocolate stores until we were sick of chocolate. It only took us about 4 hours in Brussels to figure out we wanted to leave. In the mean time we sat outside a cafe and enjoyed some beverages.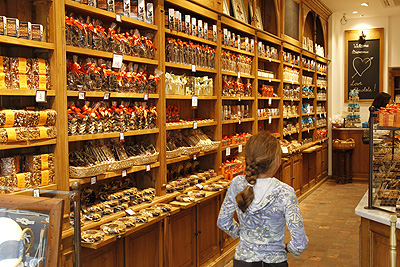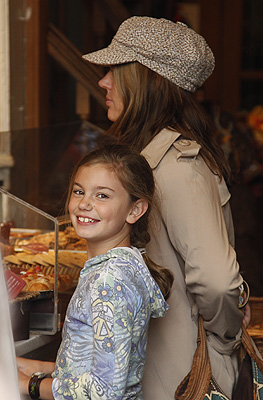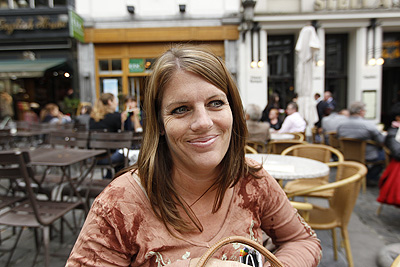 So back to the train station and in a hour and a half we were back in Paris. Once out of the station we grabbed some low quality food at the Buffalo grill tex mex chain. I ate the tartar which seems to be a staple on all the menus but raw hamburger just seems a little off when you eat it.
.
Posted by Scott

5.28.2010
Le Dentist.....

Lisa woke p to her tooth bothering her again. The temporary fix in Madrid was worn out and by this time completely gone. I did some searching on the internet and found the 5 closest dentists to us so we headed out. The first and second dentists were a bust but the third seemed promising but told us to come back in an hour. So we wandered around the area then came back and they fixed Lisa right up and with a very good temporary. So 50 euros later we were outta there and on with the day.

We had spotted a Thai restaurant a block over form our apartment so we decided to try it tonight and now it is our favorite place here. The food is very good and super fresh. There are so many place to eat over here but the problem is that you will go through 4 bad ones to find a good one.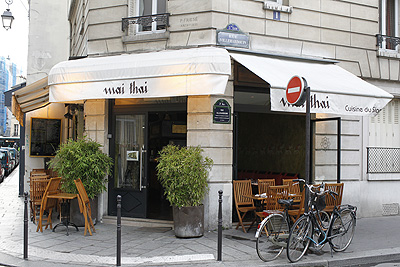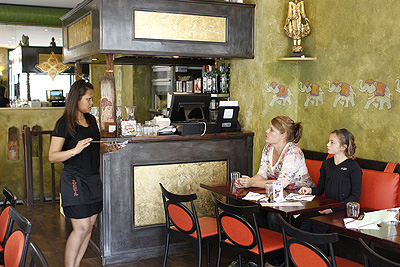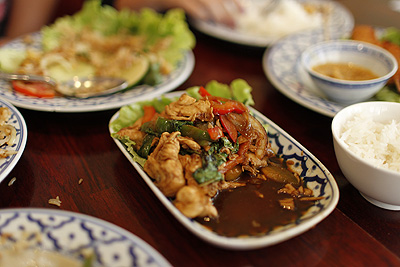 Posted by Scott

5.29.2010
Movie Day....

Started out late today and all of us were tired. Maddie and Lisa spent some time finishing up here school work as it needed to be sent home soon. Afterwards we took the metro done to Forum Les Halles and to see the movie Prince of Persia.

Walked back and then later that evening we got Italian food for dinner. Afterwards we went buy the DVD shop and bought a used movie to watch. They do not have blockbusters over here but you will find used DVD stores on every other block. The DVD's are cheap and usually 5 euros for movies and 10 for a newer release. We seem to buy a movie a day and have already put together a small library. When we leave to come home they will buy them back.

Posted by Scott

5.30.2010
La Poste.....

Since we are heading out in a few days we needed to send Maddies schoolwork back to California. The central La Poste or post office in Paris that is located a few blocks from the Louvre is open 24/7 365 days a year and the lines are short. We found an express envelope and for a bargain of 56 euros we were done. Now when I say bargain that is only because I'm comparing it to the 140 euros that UPS wants to send it.

Afterwards we headed south across the Seine into Saint Germaine. Not much was open because it was Sunday so we ended up getting lunch at a French place loaded with locals. The girls had the best French onion soup but to our surprise it was just called onion soup on the menu, maybe because we are in France.

We walked back to the apartment going right by Notre Dame which is a very impressive work of engineering for its time. After that we walked through the jewish neighborhood about 6 blocks from home and on the way we picked up falafels and took them back for dinner. Now this place put the awful in falafels as they were full of awful ingredients.

Posted by Scott

5.31.2010
Official Birthday.....

We made a banner so Maddie woke up to a big happy birthday and then opened up some presents. After a while we headed out to a local bead shop where she wanted to make some jewelry for her birthday. The store was not that well set up for making stuff, more just for selling so we bought enough supplies and took them to go along with some pliers. Whenever you try and do something a little different then the French are used to they do not handle it well.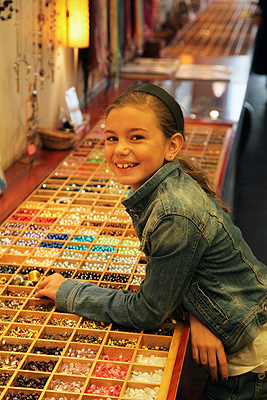 So while the girls were finishing up in the bead store I ran over to the SNCF French railway office that was around the corner and reserved some train seats. Once they were finished we ate lunch at a sushi bar across from the rail office. The sushi in France is limited and very simple and in no way compares to California sushi. In fact your best bet is to go with some tuna or salmon just plain nigiri style.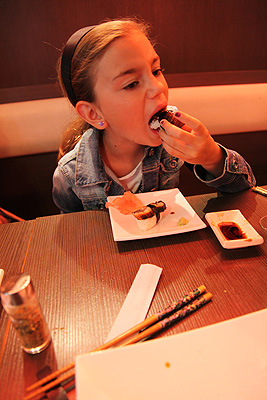 After lunch we strolled over to our local patisserie and Maddie picked out a selection of desserts for after dinner. If there is one thing over here in Paris that you could bring home it would be the desserts.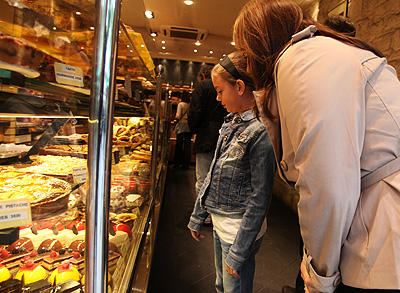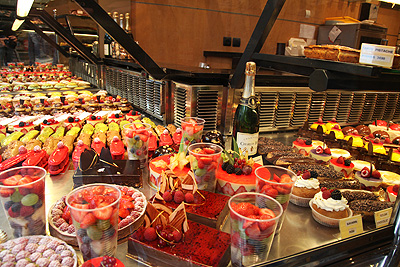 After dropping off the sweet treats the girls got their nails done at an overpriced salon that did a lousy job – welcome to Paris. We walked down the street and took Maddie to a store called Swoon where she picked out an outfit. On the way back we grabbed some Italian and then home for dessert.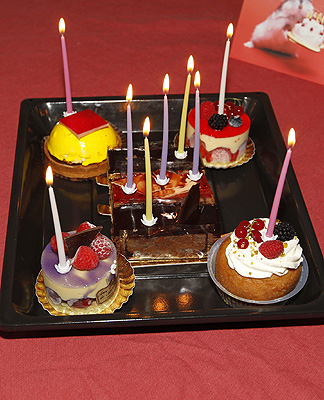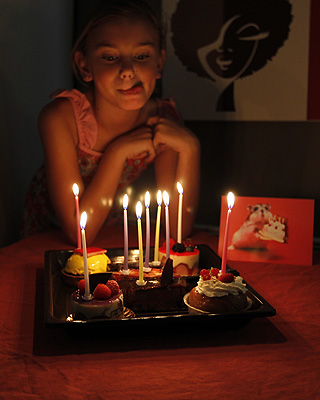 Posted by Scott