4.26.2010
Heading out......

We left Sacto on a beautiful Monday morning and flew our first leg of the journey into L.A. which was socked in with fog. Immediately our flight on a United 777 was delayed 2 and a half hours so we rescheduled out next connection from London to Lisbon as we definitely were not going to make the flight. United probably has the oldest planes left that fly across the ocean and it really makes for a longer flight without the entertainment systems in the seats.

Posted by Scott

4.27.2010
Finally Landed......

So after 10 hours we descended into Heathrow and deplaned. We had to go to the TAP Air Portugal counter and reconfirm our tickets for the later flight and then we had 3 hours to kill in the terminal so we got a bite to eat. We boarder a Airbus A320 and headed to Lisbon.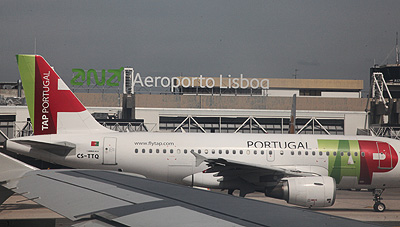 After landing we went through customs and got our 500 pounds of luggage, not actually 500 pounds but the most we have brought since we are staying so long. The customs agent told us not to take a taxi because they will steal from you but after asking around he meant that they will drive us around the long way, we had thought he was saying they would rob us. It turns out our taxi driver was extra friendly and gave us a five star tour on the way to the hotel. Lisbon is on the river right next to the ocean and on hilly terrain similar to San Francisco.

We got checked into the Hotel Asiz and then decided we would go grab a bite to eat so we walked down the street and ended up at a local steak shop called Grill 20. The food was good and not too expensive.

Posted by Scott

4.28.2010
Acting like Tourist.....

Woke up and ate breakfast at the hotel then headed out for the day. We stayed at the Marques de Pombal and so we walked down towards the water on Avenue Da Liberdade which is similar to the Champs Elysses in Paris. When we got to the bottom of the hill we were in the old part of Lisbon which is very nice. We stopped and had a drink outside in front of the restaurant and then Maddie and Lisa went into a shop and bought Maddie a new swimsuit.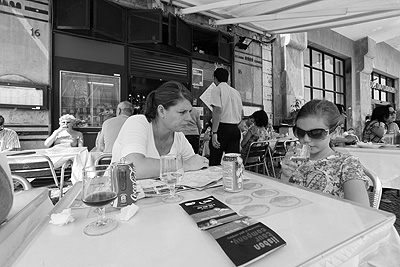 We decided after walking a bit that we would be total tourist and the Yellow Bus tour which is one of those double decker buses you see in any city hauling around the foreigners with cameras. After the walk the bus ride was just the ticket and we ended up riding across town to Belem on the outskirts of Lisbon located right on the riverbank. We ate some lunch then strolled down the street looking for the Pastries de Belem a local shop that has been making special cakes for hundreds of years and supposedly quite the spot. They serve over 25,000 of these cakes per day and on this day they would serve a hundred extra cakes. Yes they are that good…….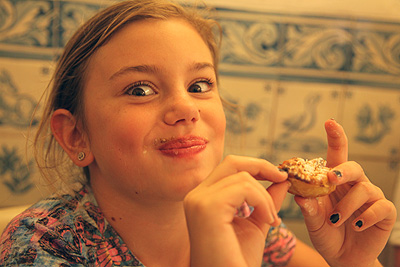 After that we rode the yellow bus back to downtown and walked around old Lisbon checking out the scene. The old part of town is like going back in time and the smell of salted fish stinks up the air. Old trooley cars still line the streets and every building is hundreds of years old.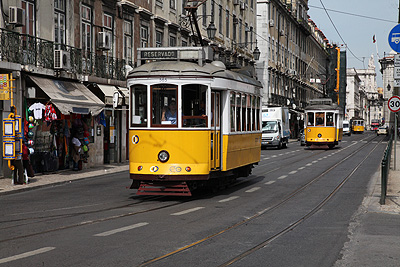 Lisa and Maddie did some more shopping and we stopped and got some coffees where Lisa and Maddie claim to have had the best coffee drink ever. After that we got dinner outside an Italian restaurant where the food was not that good but the ambience was nice. We rode the metro subway back to the hotel.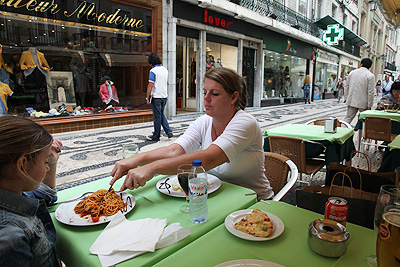 Afterwards I took a walk around town to capture somme night shots. I was after a particular shot of a roman style aquaduct that crosses a valley that was just a mile walk away. It turns out it was in a not so good neighborhood and I was setting up a shot when a local kid walked by and spotted the camera gear. He stopped across the street and tried not to stare as he called his buddies on his cell phone. I was catching on to what was happening so I started walked and so did he. When we got to the next intersection I turned right and then immediatly right again and as soon as I was out of his sight I heard him start whistling and yelling in portugese to his buddies - probably to hurry up. I ran right and then right again going a full circle around the block then headed left which seemed to work as I never saw them again.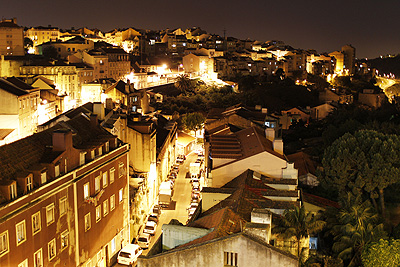 Posted by Scott

4.29.2010
Night Train to Madrid....

I started the day by heading down to the central train station and buying tickets for the Lusitania night hotel train to Madrid while the girls got breakfast. The tickets were a bit expensive but when you consider it is your hotel for the night and they serve you dinner and breakfast then the price seems right. We checked out of the hotel and left our luggage with the hotel while we rode the metro and local buses to Dolce Vida the largest mall in Portugal where Kidzania is located.


Maddie wanted to visit Kidzania since she had so much fun at the one in Dubai. They had a real airliner fuselage in front of the check in for the place and inside was just as amazing as Dubai. Maddie enjoyed working at McDonalds the most where she got to assembly hamburgers. Afterword we strolled around the Mall for a while before we took the public transport back to get our luggage.

After picking up the bags we took a cab to the rail station and checked them into a locker as it was only 7:00 and the train did not board until 10:00. We took the subway into Chiado a beautiful district of Lisbon on the hillside. We came across some local skateboarders jumping of ancient architecture as I took their photos and they exchanged emails to get copies of the pictures. We killed two hours and then returned to the rail station.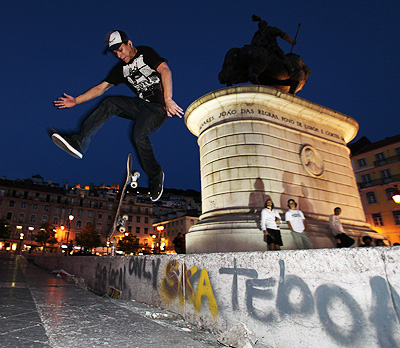 Once back at the station we got our luggage out of the lockers. Maddie and I went looking for the train and Lisa stayed to watch the luggage and to our surprise when we returned Lisa had a dog. Yes a dog, a full grown boxer. She was just dog sitting while the owner went to run an errand.


Once on the train we were surprised at how small the cabin was and how much luggage we had to fit into it. Maddie did not have a bunk and would have to share the tiny bed with one of us. After getting situated and the train started moving we got dinner which was very pleasant after such a long day.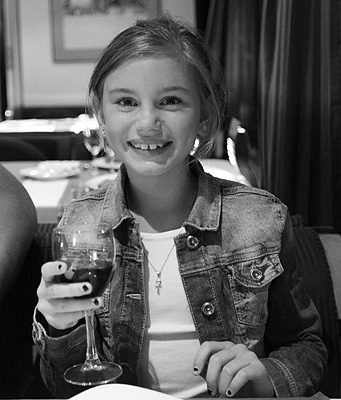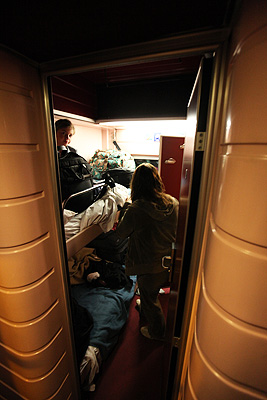 Posted by Scott