4.30.2010
In Madrid.....

We had breakfast on the train as we pulled into Madrid. Got off and caught a cab to our hotel in the old part of Madrid. It seems to be that in the older part of most European cities the streets are one way and very narrow most likely because they were built before the car was even thought of.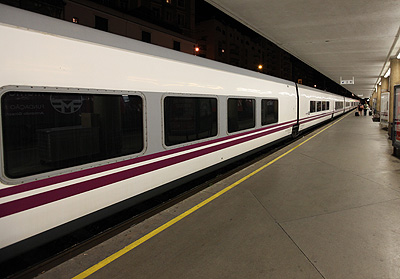 Our hotel the Palace was just that, originally built as a palace and then they converted it over to a hotel.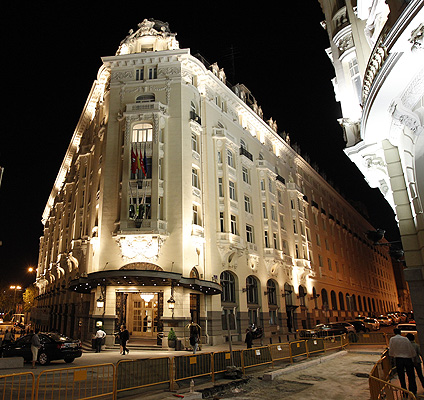 After getting situated we opted to walk around the area and see the sights but by the time we got going it was siesta time and everything was closing up. We found a local joint that was still open for lunch so we hoped in for a bite.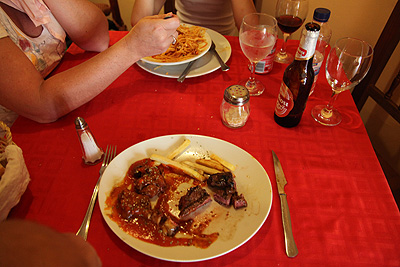 Once night hit Madrid was just wonderful and the weather could have not been more perfect. Everywhere you go there is something happening.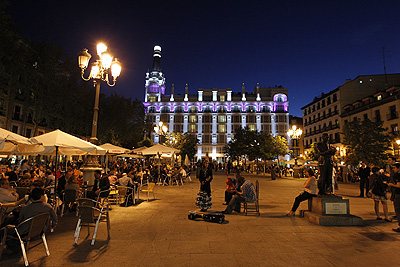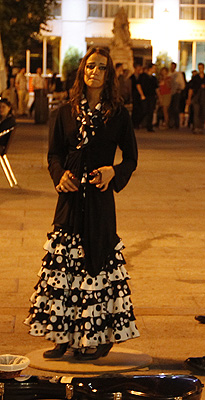 Earlier that day I had spotted a nice Italian restaurant called Pasta Nostra so we decided that would be perfect for dinner. We ordered some Pizza and Pasta for what was to be the best Italian food we had in a long time. Maybe it was just because the Italian food we had earlier was not good. Maddie also decided tonight was the night she wanted to start wearing glasses and Lisa's reding specs were just the ones for her.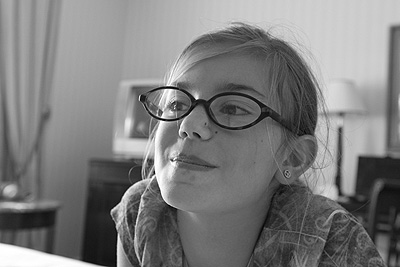 Posted by Scott

5.01.2010
Flamenco......

It was a holiday so there was not a lot going on anywhere and not much was open. Lisa had cracked her tooth at dinner on the train so today was a good day to find a dentist that was open and get it fixed. I talk with the hotel about options for the dentist and we found a clinic that was open across town and could get us in. Because of the timing all they could do was a temporary fix but at least is was fixed.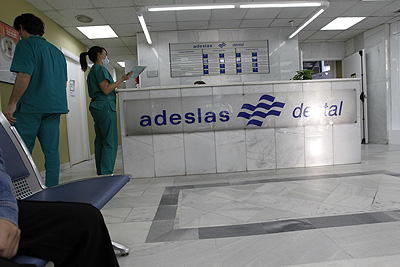 Later that day we decided a Flamenco show would be in order so we went to a show with a dinner. The dinner was good but the show was a little bit long and we thought the free flamenco dancers you see in the street had more talent. But in the end it was a good evening.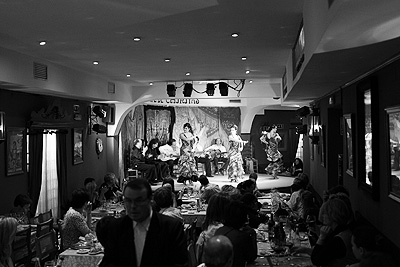 On the way back to the hotel we stopped in a café and had some dessert and washed it down with a couple of espresso's, Maddie and Lisa had some kind of a chocolate coffee concoction that they claim was the best ever. It did however keep Maddie up all night.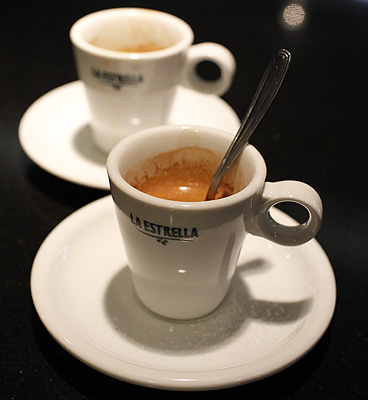 Posted by Scott

5.02.2010
Picnic in the Park....

Another Holiday so once again not much would be open today but we would make the best of it. We started by heading down to the center or town to see the Plaza Mayor.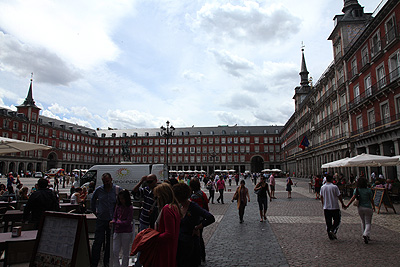 After walking around and checking stuff out we hit up a ham shop which is a store that only sells hams and I mean a lot of different hams. Picked up a few types, some cheese and a baguette and we were off to the park.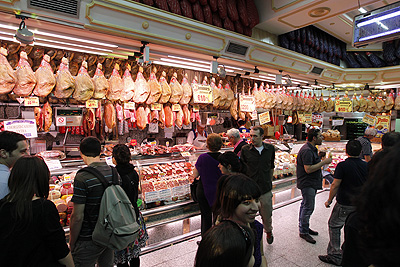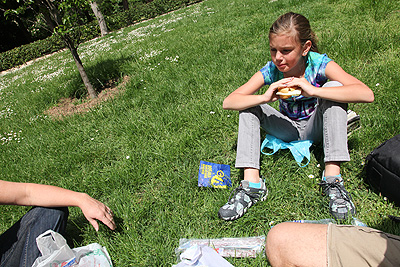 The park was definitely the place to be on such a beautiful day and we picked a nice spot in the grass. After the picnic we strolled through the walkways to admire all the grand gardens they have throughout the park. It was also a great place to play a good old fashion game of tag.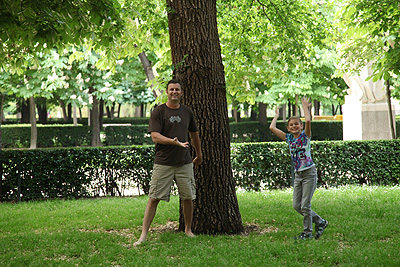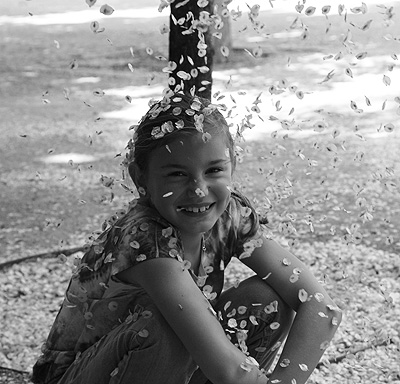 By this time Maddie was tired and we had a ways to go to getback to the hotel so in the usual style she caught the daddy taxi.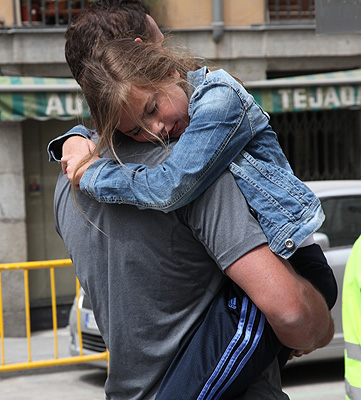 Later that evening we grabbed dinner again at Pasta Nostra and by this time we were locals. It seems whenever we travel and try all kinds of new foods, like the tapa bars of Spain, you can always find comfort in a big bowl of spagetti bolognese.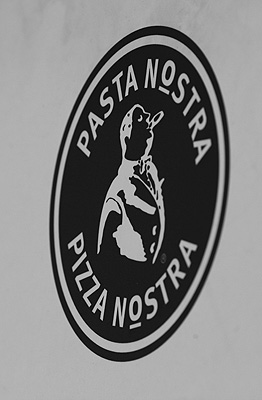 Posted by Scott

5.03.2010
Driving the Partner....

Started out early and went down to the train station to rent a car from Sixt a German car rental outfit. We got a Puegot Partner which is a mini minivan sort of diesel station wagon thing. Maddie felt sick and as we walked outside she threw up all over the sidewalk. We got her into the car and were off. Heading out of Madrid Lisa had the first shift of driving.

It was raining and our first stop was in Toledo the original capital of Spain. We parked in a garage as in a town center you are not going to find a parking space. Maddie was feeling better and we walked down to the McDonalds and she got some food. Toledo was a interesting place built on a hilltop and you could probably spend a few days there but we opted for just an hour.

As we headed off the sky cleared and we were driving through the olive orchards in what was becoming a beautiful day. About an hour out of Toledo the McA-Dees was catching up with her and Maddie had a round two in the car. Now it was siesta time in the middle of nowhere and that made it even more fun. Within 10 minutes she felt 100% and we drove through the countryside down to Merida.

Everyone live in the towns or villages and once out in the farmlands there are no houses so everything is very clean. It is not like the United States where everyone had 10 acres and 5 old cars spread around their property. You really get a feeling as if you have gone back in time.

Once in Merida we stayed in the town plaza at the Merida Palace Hotel another palace gone hotel. We decided to eat dinner in the hotel restaurant which like most places in Spain does not start serving dinner until after 8:30. We had some special version of Paella and the food was very good.

Posted by Scott

5.04.2010
Old Seville....

We started the day by walking around Merida for a little while and Lisa bought her usual dose of postcards and souvenirs' – she puts the T in tourist. To make up some time that we had lost the day before driving through the countryside we headed straight onto the freeway which you pay to drive on in Spain so it would not be free by any means. On the way down to Seville we made a lunch stop and found a Spanish version of a dollar store in Monesterio which is not much more than a dot on a map.

Afterwards we headed south until I spotted a Solar Furnace Tower in the distance and we had to "shortcut" out of the way to see it. I used the term shortcut because whenever I tell them we are taking one it is usually just the opposite. The solar furnace is a array of collecting mirrors that concentrate the sunlight to a single point on a tall tower where is superheats water into steam to drive a turbine to make electricity.

So after the shortcut we were headed straight into Seville and trying to find the center of town where the old tourist part is. After making 3 circles around it we were finally there and found a hotel. Unfortunately they had no parking so I needed to drop off the bags and drive out of the old part to a garage.

I will say that the old part of Seville is a very cool. We were staying at ground zero in a hotel they called a High Tech Hotel which had all kinds of weird stuff going on, like a glass bathroom. After getting unpacked we headed out and walked around getting a paella dinner at a local place.

Posted by Scott